Welcome to The Grooming Room service information page. We are the premier provider of domestic pet care for both cats and dogs. Our goal is to offer you the very best with all things relating to the well being and condition of your beloved pets.
The techniques used are the best available in this field. Our aim is to always offer quality friendly, expert advice and commitment resulting in your pet looking and feeling as good as possible. Your satisfaction is of paramount importance.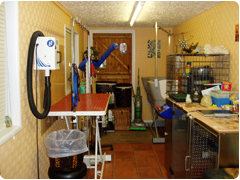 Below is a brief list of the services we offer:-
Bathing (washing and conditioning)
Grooming
Clipping
Hand stripping
Nail Trimming
Ear cleaning
General advice
Diet advice
Burns (Holistic) diet (supplier to the general public)
Collection and delivery service is available upon request for a minimal charge, but only within local area. Should you wish to discuss your individual needs we are only too pleased to help.
For more information or to arrange for a consultation, please contact us either by E-mail (by clicking on the contact button on this page) or at debbiecordon@btinternet.com or call us on 01246 570295 or 07733 333922.
We look forward to seeing you.