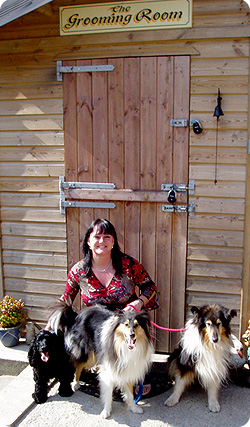 Debbie with Poppy, Amber and Abbey
The Grooming Room, Barlborough, is a small independent business that prides itself in a professional, friendly and above all, caring approach to all of its customers.
We specialize in the highest standards of grooming and pet care for both cats and dogs, and can reassure you that your pet will receive the utmost attention, on a one to one basis at all times.
Every pet is treated with the individual respect and understanding it deserves. As many pets may not have been groomed before, we always use a gentle and caring approach and guarantee your pet's stay with us will be a relaxing and enjoyable as possible.
T o help create the correct atmosphere your dogs' stay is enhanced with fantastic surroundings. During their stay they are also walked around the garden for a little fresh air and exercise.
As animal lovers of both cats and dogs, and with over 17 years of experience, many of which have been spent as a breeder of Persian cats, we feel this gives us the correct background to look after other peoples precious pets. We have a purpose built room which contains all the best equipment to help your pets' stay as relaxing as possible.
Many customers have more than one dog and like to bring both dogs together as the dogs have a close relationship and may pine for each other if separated. This is not a problem as The Grooming Room has a cabin dryer which allows two dogs to be dried at the same time, enabling the owner to complete the grooming session in just one trip!
Our business has been built up with hard work, determination, caring understanding attitude, but above all, is very different to other grooming establishments. Where we are extremely open and honest, have nothing to hide, welcome owners who want to stay with their pets for whatever reason, and are very proud of the fact that most customers come from other people who have passed on our details and recommended us because they have been very happy with the service they have received. Some clients travel as far as Lincoln, Matlock, Ashover and Manchester to bring their pets to us, which is very heart warming that they come from so far with their pets.
It is our mission to put your animals' needs first and believe the way to achieve this is by creating a perfect loving environment and maintaining the highest standards, as this shines through with the best results.
We are the proud owners of a Rough Collie (Abbey) who is 15 years old, a Rough Collie (Amber), and a Cocker Spaniel (Poppy) who believes she is the boss! Also we have 9 cats, 6 Persians of which 3 are rescue cats and the other 3 are just our lovable rogues. Each and every one means the world to us.
Prior to making bookings at The Grooming Room all customers are offered the opportunity to visit the surroundings and read the "Thank you" letters from previous clients on the left.