Our first dog arrived in 1992, (Abbey), and she's still enjoying her later years eating, sleeping, sniffing about, playing with our 2 young dogs and having plenty of sleep. Over the years we've had 2 rescue dogs (Tasha) a King Charles Spaniel and (Dudley) a Dalmatian, both of which we lost within 6 months of each other. We are now the very proud owners of a Cocker Spaniel (Poppy) and a Rough Collie (Amber), both just 2 years old.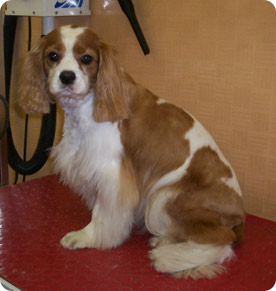 There are so many breeds that come to The Grooming Room, far too many too mention. From pups at 12/14 weeks old to our oldest client who is now over 20 years old! Every dog receives the personal attention, affection, patience and understanding they deserve, whatever the breed, age, or previous experiences with grooming – good or bad. If an owner can offer any information to help achieve the required results, it is greatly received, respected and acted upon.
Making the dogs' visit as enjoyable as possible is very important to The Grooming Room. To help the animal relax, they always receive a little massage whilst being bathed. Reassurance and affection goes a long way to getting the best behaviour from a dog and if the process seems fun for the dog, they will be happy to come back and be groomed again. A little play time and walks around the garden also help to break up the visit for the dog, and it also allows us to gain their trust.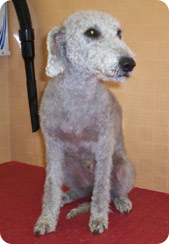 Every dog has their own personal record card with his/her specific details on. This way the owner can make us aware of any illnesses, conditions, lumps and bumps or any unusual personality traits that may present themselves whilst the dog is in our care. We enjoy taking the time to get to know the dog individually and this process helps greatly with that.
At The Grooming Room, you will be asked exactly what it is that you want for your dog. It is extremely important to be clear about the result you are looking for so that yours and your dogs specific requirements can be met. Many people like the traditional cuts and many other clients prefer to have the dog styled in its own unique way. Either is fine by us as long as it is clearly understood by the client and ourselves, what the finished result will be.
You are encouraged to pop in unannounced at any time, as we run a very open, friendly and honest business. If you wish, you may stay with your dog during the grooming process, as sometimes older or very young pups can be nervous or anxious. Although this doesn't happen very often, the offer is there for you.