Our aim is to provide you with useful information about our company, which we hope will encourage you to give us the opportunity to prove we are a sincere, genuine and caring small business.
We specialise in the care and condition of your canine and feline friends, with the intention of both customer and client (pet) getting the very best service available.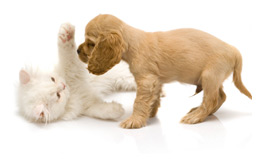 It is very important to gain the trust of both the owner and the pet, so time is taken to get an understanding of individual needs. Through experience this is an essential part of the grooming process, because there could have been a bad experience at a previous groomers, sometimes puppies get nervous and scared on their first visit, or it could be an older dog who needs a little understanding and patience because they are unable to stand for as long as they used to, etc. no matter what, cat or dog, size or breed, they all get a massage, lots of cuddles and are made to feel special.
At this site you will discover all about us, our range of services and above all, the fact that we are animal lovers.
Feel free to browse around this site and if you have any comments, questions or simply need more information, just contact us.
Thanks for visiting the site and we look forward to the opportunity to care for your pets.